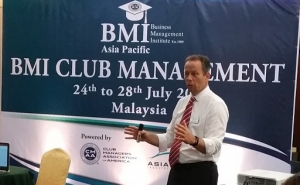 Presenter and Facilitator
Kevin Fish CCM is the industry professional responsible for introducing formal structured education into the club industry in Europe.
Since the inception of the MDP (Management Development Programme) education programme for Club Managers in 2011 he has also consistently topped the Presenter Charts in a range of topics listed below.
He has addressed the World Conference of Club Management on 10 occasions and has addressed industry professionals at Universities and Business Centres in England, Scotland, Spain, Italy, France, Holland Kuala Lumpar, and most recently Singapore.
Kevin has provided the key note speech for the annual conferences of Scottish National Governing Bodies in Bowls, Archery and Badminton, and been invited by each of the golfing Home Unions (England Golf, CGI, Wales Golf and Scottish Golf) to speak to their member clubs on a range of topics.
Kevin is an experienced presenter in each of the following areas:
Club Governance – a light-hearted but thought provoking look in the mirror at why we often fail our members through our governance practices.
Business Planning – Keeping it simple; Kevin reminds you that planning is simply bringing the future in to the present so that you can do something about it now !
Customer Experience – Providing exceptional customer service is not expensive until you get it wrong. Kevin can unlock the potential of front-line staff to embrace their responsibility in this area.
Financial Management – There are financial protocols, practices and principles that in the right hands should add up to profit.
Personal Professional Development – Kevin is an approved Practitioner in Lumina personal development tools. Self-awareness may be the start – but self-management is where its at!
Presentation Skills – Public speaking may be most people's idea of a nightmare, but we are being evaluated on how we present every minute of the day – so let's do the right things, right.
Facilitation Skills – Can you keep a discussion of your peers going for thirty minutes, with tangible outcomes. You will need to – and we can teach you how.