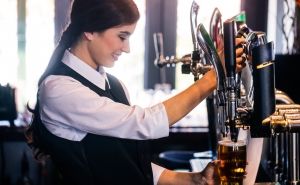 Staff Training
Customer Experience
The lifeblood of your club are the members.
They make up so much more than the largest portion of income in the annual accounts, they are the heartbeat of the club itself. They choose to spend their spare time on your premises in the company of other members, and the clubs staff.
These relationships are crucial, yet worryingly poor customer service remains the number one criticism on Tripadvisor for golf clubs.
Providing an exceptional experience to your members is not expensive, until you get it wrong ; you will soon discover that those customers can find a warm welcome elsewhere, and they will vote with their feet, and their wallets.
It is interesting to note that in the largest every survey of existing Scottish Golf Club Members, over 13,000 customers at over 100 Scottish Golf Clubs, placed Customer Service as more important to them than a whole range of other alternatives including – clubhouse facilities, the Pro Shop, Food & Beverage, Social functions or even club competitions !
The top three items in the survey stood out:
The Golf Course
The Professional Management of the Club
Customer Service
Whilst golfers may take up membership of a club where they feel wanted, we know that they will only stay where they feel valued.
How confident are you that your staff could tell you what service levels are in place at the club, and how confident are you that these high levels are maintained, when nobody is watching?
Kevin will support you to ensure that your staff embrace their role in securing the high levels of membership satisfaction that are essential to retention levels and crucial to financial stability.  This on-site training has been developed from the successful 2017 module delivered on the popular MDP training course for Club Managers, and will involve the creation of service standards, the training of staff in those standards and the measurement of their success.
In this society, which is awash with networks, yet starved of community, clubs continue to provide an opportunity for like-minded people to come together in the pursuit of a common interest. The leaders of your club must make sure that you provide an environment which makes your club the place where those magic moments can happen.
If you would like to engage with Kevin in any of the above areas, please email him directly using kevin@ccl.services or call on +44 (0) 7398 155 908